H3H03: OVERHEAD TRANSPARENCIES
---
CHRONICLES:
SAXON:

VENERABLE BEDE:-  

ECCLESIASTICAL HISTORY OF BRITAIN C731

ANGLO SAXON CHRONICLE:- 

WINCHESTER, 
CANTERBURY, 
ABINGDON,
PETERBOROUGH

CONQUEST:

ORDERICUS VITALIS (1075-1143):
ECCLESIASTICAL HISTORY OF ENGLAND AND  NORMANDY.  

WILLIAM OF POITIERS:
DEEDS OF WILLIAM DUKE OF THE NORMANS AND  KING OF THE ENGLISH 

WILLIAM OF JUMIEGES:- DEEDS OF THE DUKES OF NORMANDY

C12TH:

FLORENCE OF WORCESTER  (OB.1118) 

GESTA STEPHANI

WILLIAM OF MALMESBURY (1095-1143):-  

     GESTA REGUM
     CHRONICLES OF THE KINGS OF ENGLAND
     CHRONICLE OF THE BISHOPS OF ENGLAND
     HISTORIA NOVELLA

WILLIAM OF NEWBURGH (1135-1198):-  HISTORY OF ENGLAND

JOHN OF SALISBURY (OB.1180) :-  
     POLICRATICUS
     HISTORIA PONTIFICALIS

WALTER MAP (OB.1200) :-  DE NUGIS CURIALUM

GIRALDUS CAMBRENSIS :-  
     TOPOGRAPHICA HIBERNICA
     ITINERARIUM CAMBRIAE
     DESCRIPTIO CAMBRIAE
     LIBER DE PRINCIPIS INSTRUCTIONE

WALTER DANIEL :-  
     LIFE OF AILRED ABBOT OF RIVEAUX

RAPLH DICETO :-  
     IMAGINES HISTORIARUM (1180)

GERVASE OF CANTERBURY :-  
     HISTORICAL WORKS (C1163)

ROGER OF HOVEDEN :-  CHRONICA (1170)

ROBERT OF TORIGNY :-  
     CHRONICA (1150:- 1186)

GEOFFREY OF MONMOUTH :-  
     HISTORY OF THE KINGS OF BRITAIN (1136)


C13 & C14TH:

ROGER OF WENDOVER:-   
     ST ALBANS CHRONICLES.

MATTHEW PARIS (1235-1256) :-  
     CHRONICA MAJORA
     FLORES HISTORIARUM
     HISTORIA ANGLORUM
     
WILLIAM RISHANGER
THOMAS WALSINGHAM

BURY ST EDMUNDS :-  JOCELYN OF BRAKELOND
WALTER OF GUISBOROUGH
BARTHOLOMEW COTTON


C14:

GEOFFREY LE BAKER            
LIFE OF EDWARD EII
ROBERT OF AVESBURY
JEAN FROISSART
ANONIMALLE CHRONICLE
THOMAS WALSINGHAM
HENRY OF KNIGHTON
RANULP HIGDON :-  
POLYCHRONICON   
ST WERBURGH'S CHESTER


C15:

HOLINSHED.



CENTRAL GOVERNMENT RECORDS

ETHELBERT    HLOTHAERE  & EADRIC  INE

WRITS
FOLKLAND - BOOKLAND - LAEN (LOAN) LAND
EADWIG  956     OSCETEL
SCRIPTORIUM

ANGEVIN

DOMESDAY BOOK    
H.C. DARBY  
F.W. MAITLAND

NIGEL LE POER BISHOP OF ELY:-
CONSTITUTIO DOMUS REGIS 1136  
DIALOGUS DE SCACCARIO :- 
DIALOGUE OF THE EXCHEQUER
RICHARD FITZNIGEL:- SOCRATIC DIALOGUE
RANULPH GLANVILL :- 
LAWS & CUSTOMS OF THE KINGDOM OF ENGLAND.

ASSIZES:

     CONSTITUTIONS OF CLARENDON 1164
     ASSIZE OF CLARENDON  1164
     ASSIZE OF NORTHAMPTON 1176
     ASSIZE OF THE FOREST  1184
     ASSIZES OF VERT AND VENISON

WILLIAM FITZSTEPHEN :- 
     DESCRIPTION OF LONDON


CURIA REGIS -   SPLITS INTO =
     
I) CHANCERY - 

GREAT SEAL - PRIVY SEAL - SIGNET SEAL
CHARTER ROLLS 1199 -1516  about 200
PATENT ROLLS  1201 -1640   about 2900
CLOSE ROLLS 1201 -1640  about 3300
FINE ROLLS  1199-1648  about 533
LIBERATE ROLLS 1200-1436
SPECIAL ROLLS - GASCON ROLLS  1254-1468
                NORMAN ROLLS 1417-1432
CHANCERY WARRANTS 1271-1485  about 1796
CHANCERY INQUISITIONS POST MORTEM-  HIII  
          TO 1660
ESCHEATORS - CITRA TRENTAM & CONTRA-
     TRENTAM
CHANCERY INQUISITIONS VARIOUS
CHANCERY INQUISITIONS MISCELLANEOUS

ENDORSEMENTS

see:  Clanchy M.T. From Memory to Written Record

II) THE EXCHEQUER


ACCOUNTS OF REVENUE
DOCUMENTS SUBSIDIARY TO ACCOUNT

LOWER EXCHEQUER :- 
COLLECTS,  STORES & DISBURSES REVENUE            
RECORDS  ON ROLLS OF RECEIPT AND ISSUE

UPPER EXCHEQUER - EXCHEQUER OF ACCOUNT
                  PIPE ROLLS 1129-1130, 1155-1833

ACCOUNTS & AUDITS INCLUDE:
CUSTOMS, SUBSIDIES (TAXATION) ROYAL
HOUSEHOLD ACCOUNTS ETC.

SHERIFF'S ACCOUNT
FOREIGN (FORINSECUS) ACCOUNTS

LOWER EXCHEQUER - WOODEN TALLIES   1834
IMPRESTS - PRAESTITIA
BARONS OF THE EXCHEQUER =

KING'S REMBRANCER MEMORANDA ROLLS
LORD TREASURER'S REMBRANCER MEMORANDA  ROLLS

ROYAL HOUSEHOLD - WARDROBE BOOKS
               
EXCHEQUER OF THE JEWS
EXCHEQUER OF PLEAS


LAW COURTS

LEGAL RECORDS

CURIA REGIS -  COURT OF KINGS BENCH - 
CORAM  REGE - CRIMINAL
COURT OF COMMON PLEAS - DE BANCO  - CIVIL

PLUS

EXCHEQUER OF PLEAS
PARLIAMENT ROLLS

RECORDS ARE:

CURIA REGIS ROLLS  1193-1270   226 ROLLS
KING'S BENCH ROLLS  1272-1640   1657 ROLLS
COMMON PLEAS  1253-1640   2456
EXCHEQUER OF PLEAS 1233-1640  573 ROLLS
ROTULI PARLIAMENTORUM (PARLIAMENT ROLLS) 
     FROM ABOUT 1270

EXCHEQUER OF THE JEWS ACTING AS A COURT 
     1218-1287 48 ROLLS
COURT OF THE KING'S HOUSEHOLD 
     1282-1400  28 ROLLS.

LOCAL COURTS:

FRANCHISES AND PALATINATES:- 
DURHAM, LANCASTER, CHESTER & WALES

EYRES =  JUSTICES ITINERANT 1 1200 ROLLS
GAOL DELIVERY MID C13TH  802 ROLLS
OYER & TERMINER
MANORIAL AND BARONIAL (SEIGNEURIAL COURTS)

COUNTY COURT
HUNDRED COURT

ECCLESIASTICAL COURTS.

STATUTES
STATUTE ROLLS  1278-1470
PARLIAMENT ROLLS 1483 ONWARDS

HENRY BRACTON :- 
LAWS AND CUSTOMS OF ENGLAND
THE MIRROR OF JUSTICE
FLETA
DUCHY OF LANCASTER
MONASTIC CARTULARIES
ESTATE REGISTERS
MINISTER'S ACCOUNTS



PRECONQUEST SOCIETY

VASSALAGE
THEOCRATIC KINGSHIP
CANUTE OR CNUT
GODWIN
HAROLD GODWINSON
FEORM
TRIMODA NECESSITAS
DANEGELD
DOOMS
WITENAGEMOT OR WITAN
CURIA REGIS
THEGNS
HOUSECARLES
EARLDOMS
NORTHUMBRIA, MERCIA, WESSEX, ANGLIA
SHIRES (COUNTIES)
SHIRE REEVE = SHERIFF
HUNDREDS = 100 HIDES
WAPENTAKES
THE VILL

SOCIAL STRUCTURE:

WERGELD
KINSHIP   BLOOD FEUD
COMPURGATION OR OATH TAKING
CEORLS & LAETS
CNUT
GODWIN
THEGNS         
HERIOT
CEORLS & LAETS (SLAVES)
RECTITUDINES SINGULARUM PERSONARUM
GENEATS     
KOTSETLA  = COTTARS 
GEBUR = VIRGATORS
DANELAW
BAYEUX TAPESTRY
H.R. LOYN



THE CONQUEST

WHIG HISTORY
E.A. FREEMAN   
THOMAS CARLYLE 
F.M. STENTON   
C.H. HASKINS

JUSTICIAR 
PROOF OF ENGLISHRY

THE FYRD          
THE FEUDAL HOST
WALTHEOF   
ODO OF BAYEUX

WITENAGEMOT
THE OATH OF SALISBURY  1086     
DOMESDAY BOOK   1086
TEMPORIS REGI EDWARD = T.R.E.


SUSAN  REYNOLDS   HISTORY 68 (0CT 1983) ON RACIAL  ORIGINS   OF  THE 
NORMANS.



THE FEUDAL SETTLEMENT

J.H. ROUND  
ERIC JOHN  
MARJORIE HOLLINGS
J.O. PRESTWICH

MILES     CNIHT = KNIGHT

1) COMMENDATION     
2) THE FIEF  
3) THE KNIGHT       
4) THE CASTLE


THEORETICAL STRUCTURE: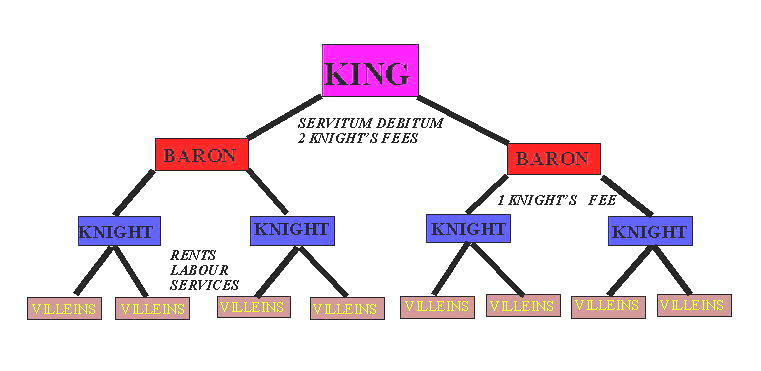 VASSALAGE
IMMUNITIES
ALLODIAL LAND
CHARLEMAGNE = CAROLINGIAN C9TH
COMMENDATION
SARACEN
VIKING
MAGYAR
CHARLES THE BALD
THE CAPITULARY OF QUIERZY 877
MARC BLOCH
F.L. GANSHOF
J CRITCHLEY
J.R STRAYER
J. FOURQUIN LORDSHIP AND FEUDALISM
THE FEUDAL SETTLEMENT
GENEATS
GEBURS
COTSETLARS
FYRD
ASSIZE OF ARMS 1181
THE 5 HIDE UNIT
THE FEE OF MORTAIN
OSWALDSLAW LINCOLN
SERVITIUM DEBITUM 1066-1070
CREATION OF BARONIES 1070-1086
CREATION OF MESNE VASSALS & TENANTS BY KNIGHT SERVICE 1100
START OF FIRST FEUDAL GENERATION
SCUTAGE = SHIELD MONEY IN LIEU OF SERVICE SERVICES ARE COMMUTED = START OF FISCAL FEUDALISM
ENFEOF
ENFEOFMENT
JUSTICIAR
STEPHEN AND HENRY II

ANJOU -  ANGEVIN      
STEPHEN OF BLOIS
MATILDA     CIVIL WAR 1135-54
J.H. ROUND - GEOFFREY DE MANDEVILLE
R.H.C. DAVIES   
H. CRONNE

FRANCHISAL
SUBINFEUDATION          
LIEGE HOMAGE
SELF HELP
POLLOCK AND MAITLAND   
HOLDSWORTH   
T.F.T PLUCKNETT
S.E. THORNE:- CAMBRIDGE LAW JOURNAL (1959)
MILSOM:- LEGAL HISTORY

QUOD PRINCIPES PLACUIT LEGES 
     HABET VIGORUM
DECRETALS    
CANON LAW    
PETER OF BLOIS
ELEANOR OF AQUITAINE

NORMANDY  ANJOU AND TOURAINE
POITOU GUIENNE AND GASCONY

THOMAS BECKETT
ADULTERINE CASTLES

SEISIN   AND DISSEISIN
SWORN INQUEST OR JURY

1164 ASSIZE OF DARREIN PRESENTMENT 
1166 CONSTITUTIONS OF CLARENDON :- 
     ASSIZE OF NOVEL DISSEISIN
     1176 ASSIZE OF NORTHAMPTON 
     ASSIZE OF MORT D'ANCESTOR

PETTY OR POSSESSORY ASSIZES 

GRAND ASSIZE  12 KNIGHTS DETERMINES OWNERSHIP
THE WRIT PRAECIPE

THE TRIPARTITE INDENTURE OR 
CHIROGRAPH OR FINAL CONCORD OR FEET OF FINES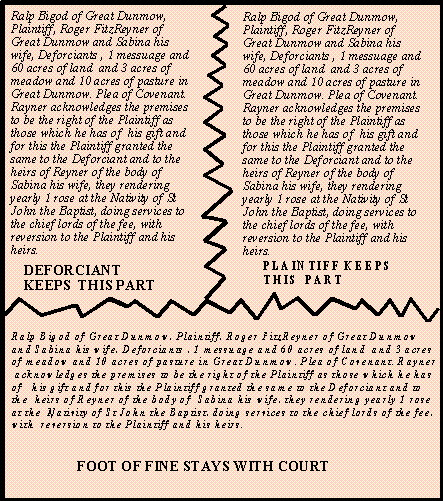 EXAMPLE:
Ralp Bigod of Great Dunmow, Plaintiff, Roger FitzReyner of Great Dunmow and Sabina his wife, Deforciants , 1 messuage and 60 acres of land and 3 acres of meadow and 10 acres of pasture in Great Dunmow. Plea of Covenant. Rayner acknowledges the premises to be the right of the Plaintiff as those which he has of his gift and for this the Plaintiff granted the same to the Deforciant and to the heirs of Reyner of the body of Sabina his wife, they rendering yearly 1 rose at the Nativity of St John the Baptist, doing services to the chief lords of the fee, with reversion to the Plaintiff and his heirs.
JURY OF PRESENTMENT   
TITHING AND FRANKPLEDGE
VEREDICTUM = TRUTH TELLING = VERDICT
FORMULARY LAWS

HENRY REINFORCES HORIZONTAL TIES IN SOCIETY SEE STRAYER

SHERIFFS   
CORONERS  
ESCHEATORS 
LOCAL JUSTICES

REPLEVIN   
MESNE    
ASSIZE UTRUM



JOHN AND MAGNA CARTA

GERALD OF WALES    
BERTRAND DE BORN
GERVASE OF CANTERBURY   
THE WAVERLEY ANNALS
JOHN SOFTSWORD
ROGER OF WENDOVER 
THE BARNWELL CHRONICLE

GAIUS MARIUS 166-110 BC

A.L. POOLE           
J.C. HOLT

PHILIP AUGUSTUS & THE ANGEVIN EMPIRE

INCIDENTS OF FEUDALISM
      WARDSHIPS
      MARRIAGES
      RELIEFS
      SCUTAGES

FAULKES DE BREAUTE
GERARD D'ATHES



MAGNA CARTA

FIXES SOURCES OF REVENUE

AID FOR MARRYING THE ELDEST DAUGHTER
AID FOR KNIGHTING THE KING'S ELDEST SON
AID FOR RANSOMING THE KING'S BODY 

THE GRACIOUS AID

REGALIAN RIGHTS     
COMMUTATION      
WASTE

D.M. STENTON:- ENGLISH JUSTICE FROM THE CONQUEST TO MAGNA CARTA

C.H. HASKINS:-   EXECUTIVE JUSTICE   SEE SPECULUM (1955) 

MINISTERIALES  
POITEVINS   & SAVOYARDS
PETER DES ROCHES    & PETER DES RIVAUX
JUSTICIARS         
WILLIAM LONGCHAMP

CHARTERS OF FEALTY
THE MARCHER BARONS   =  "THE NORTHERNERS"

THE EARL MARSHALL
ARCHBISHOP STEPHEN LANGTON

J.E.A. JOLLIFFE:-   ANGEVIN KINGSHIP

MAGNA CARTA & THE CHARTER OF THE FORESTS
LIBERTIES AND IMMUNITIES



SOCIAL AND ECONOMIC CONDITIONS

ASSARTS
AVERAGE LAND REQUIREMENTS FOR AVERAGE HOUSEHOLD OF 4.5 PERSONS  = 
13.5 ACRES USING TWO FIELD ROTATION

AVERAGE LAND REQUIREMENTS FOR AVERAGE HOUSEHOLD OF 4.5 PERSONS  = 
13 ACRES USING THREE FIELD ROTATION


TITOW'S FORMULI FOR DETERMINING MINIMUM SUBSISTENCE REQUIREMENT
   
    
      C              S      
    OUTGOINGS +  SUBSISTENCE MINIMUM
    --------------------------------      X F FALLOW = A  (MIN ACRES
            YIELD                                       PER PERSON)
              Y


          A                 H                  TA

  ACRES PER PERSON x HOUSEHOLD MULTIPLIER = TOTAL ACRES FOR FAMILY 

SUBSTITUTION:

2 FIELD SYSTEM:

       8 BUSHELS + C4 BUSHELS
       ----------------------        X 2  =   3 ACRES PER PERSON
        8 BUSHELS PER ACRE


3 FIELD SYSTEM

 
       8 BUSHELS + C4 BUSHELS
       ----------------------        X 1.5   =  2.25 ACRES PER PERSON
        8 BUSHELS PER ACRE


FAMILY SUBSISTENCE REQUIREMENT:

2 FIELD SYSTEM  3 X 4.5  = 13.5O ACRES PER FAMILY

3 FIELD SYSTEM  2.25 X 4.5 = 11 ACRES PER FAMILY


CF TITOW RURAL SOCIETY   PP 80-89


"IT OFTEN HAPPENS THAT LANDS AND TENEMENTS WHICH UNDIVIDED  WERE 
ACCUSTOMED  DECENTLY TO SUFFICE FOR THE SUBSISTENCE OF MANY  MEN 
AFTERWARDS ARE SEPARATED, AND INTO SO MANY PARCELS AMONG COHEIRS 
THAT   NONE  OF  THEM  DOES  HIS  PART  THAN  SUFFICE  FOR   HIS 
SUBSISTENCE"

KENT CHARTER  1276   

BIRTH RATE  
DEATH RATE  
SURVIVAL RATES   
INFANT MORTALITY RATES

WORLD FOOD STOCKS 1978  = 54 DAYS

POPULATION AND LAND UNDER CULTIVATION

1086    POPULATION  C 1.6 MILLION  -  LAND   7.2 MILLION ACRES
1348    POPULATION C 6   MILLION  -  LAND   7.2 MILLION ACRES      
1914    POPULATION  C 40  MILLION  -  LAND   7.7 MILLION ACRES
1978    POPULATION  C 55  MILLION  -  LAND  LESS THAN  7.0 MILLION ACRES

LANDLESS WAGE LABOURERS.
INTERNAL AND EXTERNAL COLONISATION
FEUDAL LABOUR SERVICES
ENFRANCHISEMENT = FREEDOM FROM LABOUR SERVICES (NOT THE VOTE !!!)

SIR JOH FASTOLF-  CLOTH PRODUCING MANORS

G. DUBY :-  RURAL ECONOMY AND COUNTRY LIFE IN THE MEDIEVAL WEST

M.M. POSTAN :- MEDIEVAL ECONOMY AND SOCIETY
ESSAYS IN MEDIEVAL TRADE AND AGRICULTURE
J.Z. TITOW:-  ENGLISH RURAL SOCIETY
G HODGETT:- ECONOMIC & SOCIAL HISTORY OF MEDIEVAL EUROPE.

N.J. POUNDS :-  ECONOMIC HISTORY OF MEDIEVAL EUROPE
E. MILLER & J. HATCHER :-  MEDIEVAL ENGLAND RURAL SOCIETY AND 
ECONOMIC CHANGE. 
J. HATCHER :-  PLAGUE AND POPULATION.
W.M. MCNEILL:- PLAGUES AND PEOPLE
ZINZER: RATS LICE AND HISTORY

THE "CRISE NOBILIARE" OF THE C14TH



PEASANTS

TITOW,  MILLER & HATCHER, 
A.L. POOLE:-  OBLIGATIONS OF SOCIETY.
R.H. HILTON:-  THE DECLINE OF SERFDOM
F.R.H. DU BOULAY:-   THE LORDSHIP OF CANTERBURY
E.MILLER:- THE ABBEY AND BISHOPRIC OF ELY.
E. KING:- THE ESTATES OF PETERBOROUGH

MANORIAL DEMESNE  =   THE RESERVE 
+ TENANCIES FOR RENT
RENTS OF ASSIZE  = ASSIZED RENTS FIXED BY ANCIENT CUSTOM
VIRGATORS =   30 ACRES OF UNFREE OR VILLEIN LAND   
COMMUTATION OF LABOUR SERVICES
THE FAMULUS ESTATE LABOURER (CF POSTAN)
THE MANORIAL REACTION OF THE THIRTEENTH CENTURY

LEASEHOLDS AND COPYHOLDS
PEASANTS REVOLT  1381   

LEGUMINOUS PLANTS =  PEAS BEANS AND VETCHES
STOCK REARING =  ENCLOSURES



GENTRY AND NOBILITY

CHEYETTE F.:-  LORDSHIP AND COMMUNITY
GANSHOF:- FEUDALISM
BLOCH:- FEUDAL SOCIETY
STENTON F.M.:- THE FIRST CENTURY OF ENGLISH FEUDALISM
COSS P:  THE KNIGHT IN MEDIEVAL ENGLAND
ILLSLEY J.S.:  The Medieval Gentry and the English Constitution MEDIEVAL HISTORY 1993.


KNIGHT'S FEES
MILES AND DOMINUS
CHIVALRY

FEUDAL AIDS:

SCUTAGE
MARRIAGE OF ELDEST DAUGHTER
KNIGHT OF ELDEST SON
RANSOMING OF THE LORD'S BODY

GRACIOUS AIDS
ASSIZE OF ARMS 1181
FISCAL v FEUDAL DEFINITION OF  KNIGHTHOOD
BUZONES = BUJO = GREAT OR WORTHY
MARCHER LORDS

MANORIAL DEMESNE
TOLLS AND ASSIZES

EG:
     BREAD AND ALE
     FRANKPLEDGE
     GALLOWS AND TUMBRIL
     MILL
     INFANGENTHEOF
     OUTFANGENTHEOF
ETC



EDWARD IST

JUSTINIAN = C6TH BYZANTINE EMPEROR
POWICKE F.M.:- THIRTHEENTH CENTURY  PP61-66
PETER DES ROCHES
PETER DES RIVAUX
ROBERT BURNELL


THE CONSTRUCTIVE PERIOD 1272-1290
FRANCHISAL RIGHTS

     BREAD AND ALE
     FRANKPLEDGE
     GALLOWS AND TUMBRIL
     MILLS ETC
     INFANGENTHEOF
     OUTFANGENTHEOF
     RETURN OF WRITS

CAM H:- THE HUNDRED AND THE HUNDRED ROLLS.

STATUTE OF GLOUCESTER  1278
QUO WARRANTO  1290
LIMIT OF LEGAL MEMORY = ACCESSION OF RICHARD 1 1189
JOHN DE WARENNE EARL OF SURREY

PLUCKNETT:- LEGISLATION OF EDWARD IST.
D.W. SUTHERLAND:- QUO WARRANTO UNDER EDWARD IST.
F.M. POWICKE :- THE THIRTEENTH CENTURY. PP 352-380
K.B.MCFARLANE:-  "HAD  EDWARD A POLICY TOWARDS  THE  EARLS", 
     HISTORY 1965
F.M. POWICKE:- THIRTEENTH CENTURY  PP352-380
PLUCKNETT:- LEGISLATION  PP 131-5

STATUTE OF WESTMINSTER II 1285

DE DONIS CONDITIONALIBUS
ON CONDITIONAL GIFTS
ENTAILED ESTATES
FEE SIMPLE
FEE TAIL
FEE TAIL MAIL

STATUTE OF WESTMINSTER  III  1290

QUIA EMPTORES TERRARUM
WHOEVER BUYS LAND

USUFRUCT
STATUTE OF USES. CF:- J.M.W. BEAN

BASTARD FEUDALISM

STATUTE OF MORTMAIN  1279
PLUCKNETT:- PP135-50
POWICKE:- THIRTEENTH CENTURY   P.625

STATUTE OF WINCHESTER  1285
STATUTE OF ACTON BURNELL  1283
STATUTE OF MERCHANTS  1285
LEROY v REDMER.


THE PERIOD OF DECLINE 1290-1307
LAY SUBSIDIES = TAX ON MOVABLE GOODS
DISTRAINT OF KNIGHTHOOD
L20 LANDHOLDERS
BONIFACE VIII
ELEANOR OF CASTILE
PRISAGE AND PURVEYANCE
LONDON MUSTER  7 JULY 1297
HUMPHREY DE BOHUN =  EARL OF HEREFORD 
ROGER BIGOD = EARL OF NORFOLK & EARL MARSHALL

ROTHWELL  H:- "THE CONFIRMATION OF THE CHARTERS 1297"  E.H.R  
     1945
ROTHWELL H:- "EDWARD IST AND THE STRUGGLE FOR THE  CHARTERS" 
     IN HUNT R.C. (Ed):- ESSAYS PRESENTED TO F.M. POWICKE.

WILLIAM WALLACE
BATTLE OF STIRLING BRIDGE

CONFIRMATION CARTARUM
GHENT NOV 5 1297

THE ROYAL HOUSEHOLD
RICCARDI & FRESCOBALDI



EDWARD II

PIERS GAVESTON  GASCON KNIGHT

"TO KEEP  THE LAWS AND CUSTOMS OF THE LAND AS THEY 'SHALL  BE 
     CHOSEN'  IE.,  FUTURE PERFECT FRENCH '  AURA  ESLEU'   LATIN 
     'ELGERIT'BY THE COMMUNITY OF THE LAND.

ORDINANCES OF 1311
LORDS ORDAINERS
BANNOCKBURN
TREATY OF LEAKE (NOTTS) 1318
EKWALL E:-  OXFORD DICTIONARY OF ENGLISH PLACE NAMES.
P.H. REANEY :-  ENGLISH PLACE NAMES SOCIETY
HUGH & HUGH DESPENSER
MARCHER BARONS
ROGER MORTIMER 
ISABELLA
STATUTE OF YORK 1322
T.F. TOUT:- THE PLACE OF EDWARD II IN ENGLISH HISTORY
J. CONWAY DAVIES:- THE BARONIAL OPPOSITION TO EDWARD II
N. FRYDE:- THE TYRANNY AND FALL OF EDWARD II
DENHOLM YOUNG:- VITA EDWARDI SECUNDI

LATERAL VERSUS VERTICAL TIES  SEE:
J.R. STRAYER:-  'THE  LAICIZATION  OF  FRENCH  AND   ENGLISH 
     SOCIETY IN THE THIRTEENTH CENTURY' 
     SPECULUM 25 1940

BARONIAL DECLARATION OF ALLEGIANCE TO THE CROWN 1308

STEEL A.B.:-  'THE PLACE OF THE KING'S HOUSEHOLD IN  ENGLISH 
     CONSTITUTIONAL HISTORY' 
     HISTORY 1930-31
M.V. CLARKE ED:- MODUS TENENDI PARLIAMENTUM
M.C. BUCK:- 'REFORMS OF THE EXCHEQUER'  EHR VOL 98
ANDREW HARCLAY
MODUS TENDENDI PARLIAMENTUM
COWICKE ORDINANCES



THE HUNDRED YEARS WAR

AQUITAINE
GASCONY
GUYENNE
CAPETIAN
CHARLES IV
PHILIP COUNT OF VALOIS
PHILIP VI
CHEVAUCHER
PITCHED BATTLES

PHASE 1


GHENT
BRITANNY & FLANDERS
VAN ARTEVELDE
BUIRONFOSSE
SLUYS  (L'Ecluse)
JEAN DE MONTFORT
CHARLES DE BLOIS
MALESTROIT 1343
AIGUILLON
NEVILLES CROSS
HENRY EARL OF LANCASTER
SLUYS  1340
CRECY 1346
JOHN THE GOOD  1351
POITIERS  1356
ETIENNE MARCEL
JACQUERIE 1358
DAUPHIN CHARLES DUKE OF NORMANDY LATER CHARLES VTH
DU GUESCLIN - CONSTABLE OF FRANCE
BURGUNDY
TREATY OF BRETIGNY  1360

PHASE 2   1360 - 1368

ARRIERE BAN
ARSENAL
JEAN DE VIENNE ADMIRAL OF THE FLEET
MONOPOLY OF CANNON
SAINTE SAUVEUR 1374
CASTILE - PEDRO THE CRUEL
NAVARRE - KING CHARLES THE BAD
CASHEREL  MAY 1364
AURIAC 1364
GUERANDE 1365
BLANCHE OF BOURBON
HENRY OF TRASTAMARA

PHASE 3   1368 - 1432

LA ROCHELLE 1372
GABELLE

PHASE 4  1415 - 1432

CHARLES VI
HENRY V
BURGUNDIANS AND ARMAGNACS
AGINCOURT  1415
TREATY OF TROYES MAY 1420
DUKE OF BEDFORD
CHARLES VII  LE ROI DE BOURGES
TREATY OF ARRAS  1435





THE ORIGINS OF PARLIAMENT

FUNCTIONS

SAYLES G.O.:- THE KINGS PARLIAMENT OF ENGLAND
RICHARDSON & SAYLES:-  THE ENGLISH PARLIAMENT IN THE  MIDDLE 
     AGES
DENTON & DAVIES:-  THE ENGLISH PARLIAMENT IN THE MIDDLE AGES
MILLER E.:-  THE ORIGINS OF PARLIAMENT
MILLER  &  FRYDE:-    HISTORICAL  STUDIES  OF  THE   ENGLISH 
     PARLIAMENT
SPUFFORD P.:- THE ORIGINS OF PARLIAMENT
PASQUET D.:- THE ORIGINS OF THE HOUSE OF COMMONS
TEMPLEMAN  G.:-   THE HISTORY OF PARLIAMENT TO 1400   BHJ  I 
     (1948)

SIMON DE MONTFORT
DAFYDD  AP GRUFFYD
VIRTUAL REPRESENTATION
GRACIOUS AID
TAXATION ON MOVEABLE GOODS   = 
     LAY SUBSIDIES
ASSESSORS AND COLLECTORS
PETITIONS    
RECEIVERS AND TRIERS OF PETITIONS
IMPEACHMENT
COMMUNAL PETITIONS


QUOD OMNES TANGIT AB OMNIBUS DEBET APPROBETUR
WHAT TOUCHES ALL SHOULD BE APPROVED BY ALL


KNIGHTS AND BURGESSES





THE ORIGINS OF PARLIAMENT

II)  STRUCTURE

LANERCOST
1305 PARLIAMENT 
MAITLAND  MEMORANDA DE PARLIAMENTO 1305

PEERS OF THE REALM =  HEREDITARY RIGHT OF SUMMONS TO 
     PARLIAMENT

CISTERCIANS
LESSER CLERGY  =   CONVOCATION
ROBERT MELTON  CLERK OF THE COMMONS
FIRST  SPEAKER  =  JOHN DE LA MARE  1376
REPRESENTATION  IN PRACTICE
COUNTY AND BOROUGH COURTS

KNIGHTS OF THE SHIRE 
CITIZENS AND BURGESSES

ESTATES =  SOCIAL CLASSES RATHER THAN COMMUNITIES

MAINPERNORS   SEE ILLSLEY    BIHR  XLIX   May 1976

WRITS DE EXPENSIS
PLENA POTESTATS  =   FULL POWERS




BASTARD FEUDALISM


SIR THOMAS MALORY
K.B. McFARLANE:-    BIHR  1945
N.B. LEWIS:-  TRHS  1945
DAVIES  R.R:-   BARONIAL ACCOUNTS INCOMES AND ARREARS Econ 
     HR 1968
J.R. LANDER
A. STEEL:-  THE FINANCIAL BACKGROUND TO THE WARS OF THE 
     ROSES  HISTORY 1955

QUIA EMPTORES
INDENTURED RETINUES
CONTRACT ARMIES
APPANAGES
AFFINITIES
GOOD LORDSHIP
JOHN OF GAUNT
PASTON LETTERS



WARS OF THE ROSES


SONS OF EDWARD III:

1) EDWARD THE BLACK PRINCE  OB.1376

HIS SON  RICHARD, BECOMES RICHARD II 1377-1399

2) LIONEL DUKE OF CLARENCE


3)  JOHN OF GAUNT DUKE OF LANCASTER & EARL OF DERBY   OB. 
     1399 HIS SON HENRY DEPOSES RICHARD & FOUNDS LANCASTRIAN 
     DYNASTY AS HENRY IV

4) EDMUND LANGLEY DUKE OF YORK

LANCASTRIANS ARE:
----------------

     HENRY IV

SUCCEEDED BY HIS SON:

     HENRY  VI

AND GRANDSON:

     HENRY VI


HENRY IV'S BROTHERS:

JOHN OF BEAUFORT EARL OF SOMERSET

HENRY OF BEAUFORT BISHOP OF WINCHESTER

HENRY V'S BROTHER:

HUMPHREY DUKE OF GLOUCESTER

OTHERS:

WILLIAM DE LA POLE DUKE OF SUFFOLK OB.1450

YORKISTS ARE:
-------------

DESCENDED FROM JOHN OF GAUNT'S BROTHER:

EDMUND LANGLEY DUKE OF YORK

HIS GRANDSON:

RICHARD DUKE OF YORK

HIS ELDEST SONS:

1)  EDWARD EARL OF MARCH LATER EDWARD IV

2)   RICHARD DUKE OF GLOUCESTER
     LATER RICHARD III

3)   GEORGE DUKE OF CLARENCE.

OTHER:

RICHARD NEVILLE EARL OF WARWICK



YORKIST CLAIM COMES THROUGH:

PHILIPPA DAUGHTER OF LIONEL DUKE OF CLARENCE 

MARRIES EDMUND MORTIMER EARL OF MARCH. 

THEIR SON, ROGER MORTIMER: HAS A DAUGHTER ANNE WHO MARRIED 
     EDMUND LANGLEY'S SON RICHARD EARL OF CAMBRIDGE:
HE IS FATHER OF:
 
RICHARD DUKE OF YORK 

AND GRANDFATHER OF: 

EDWARD IV AND RICHARD III.